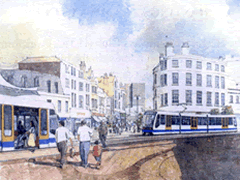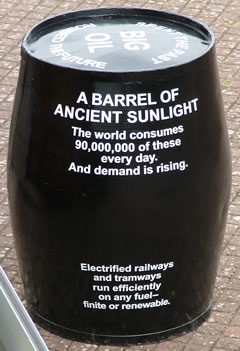 As well as our work in preserving the history of trams in Hastings, we also look to the future encouraging the development of a modern tramway network in Hastings as they have in many other locations around the country.
In the late 1990s, the idea of a new tram network for Hastings was first proposed by a new organisation - the Hastings Tramway Development Company. They outlined plans for a new system running on metre gauge track along the seafront of Hastings and into Hastings Old Town. Some vehicles with a vintage look would have been built as a tourist attraction for running along the seafront, while modern trams would open up the outlying areas of the town as the 20th century system did. This would create a fast and economical service outstripping the need for many of the cars on the streets of Hastings today. The system would have also created many jobs for the town, in the construction, maintenance and running of the system. Alas, this plan never succeeded.
Our club's aim is to promote any ideas put forward for modern tramway system for Hastings and the surrounding communities. We believe a new system that linked Hastings with St Leonards and Bexhill would be an asset to the developing towns and might become one of the 'pearls' the towns talk of. During a time of economic instability and fears over the environment, it is vital that investment in the future is with green technologies. Modern tramways give out no emissions at street level as they run on electricity. The development of modern tramways along with new 'green' electricity generation facilities (such as new offshore wind farms and tidal power) will produce a transport network with virtually zero emissions.
We do recognize, however, that are obstacles to the development of a modern tramway in Hastings. Primarily, the cost and the lack of space in the streets of Hastings are problems. The idea of having a tramway that operates at different road levels we would consider necessary to avoid road and rail crossings. This would give the system a faster link to all parts of the town, allowing passengers to have an efficient service with all the modern comforts of travelling.
---
For more information about the benefits of modern tram and light rail system, click on the link below. Courtesy of the Light Rail Transit Assosiation.
TRAMS DON'T POLLUTE